General race information
In its 48th year, the annual Granby Road Race will be held on Saturday, May 4, 2019. The race will begin at 8:30am at the Granby Memorial Middle School. One of Connecticut's oldest historic road events, the 10K race takes place on a rolling scenic route, partly road and partly through the McLean Game Refuge.
The 5K runs partly on road, and partly through Salmon Brook Park. We have fun children activities with a bounce house at the start location of the race.
Both races start just south of the Granby Middle School on Route 10. The 5K continues south on Route 10 and enters Salmon Brook Park, where the course makes a loop before returning to Route 10 and heading north back to Granby Middle School.
The unique 10K has sections of both road and trail and is beautiful and challenging for runners looking for a change of scenery. After departing the 5K course, the 10K continues south on the west side of Route 10 to Canton Road, where runners turn right onto Canton Road. Runners enter the McLean Game Refuge and run for 2+ miles through a beautiful stretch of forest from Canton Road and exit the refuge back onto the west side of Route 10. Runners continue north on the west side of Route 10 and turn left into the semi-circle driveway in front of the high school to the finish line.
The race, which began on the first celebration of Earth Day, benefits the YMCA's Annual Campaign, which sends kids to camp regardless of their ability to pay.
Race bag pick up
You can pick up your race bag, Bib, and Tee Shirt on Thursday and Friday, May 2 and 3 from 5-8 PM at the Cambridge House Brew Pub, 357 Salmon Brook Street (about 1/2 mile north of the Middle School).  Please note: The first 200 registrants from each race will receive T-Shirts.  
Parking, registration & start time
Parking for the Granby Road Race will be at Granby Memorial and Granby High School. As we will be preparing for the race on Route 10, please enter from Route 189.
Please plan on arriving at 7:30 to register with an ID. We are expecting a large number of race day registrations, so we appreciate your patience on Saturday morning.
The race will begin at 8:30 just south of the Middle School on Route 10.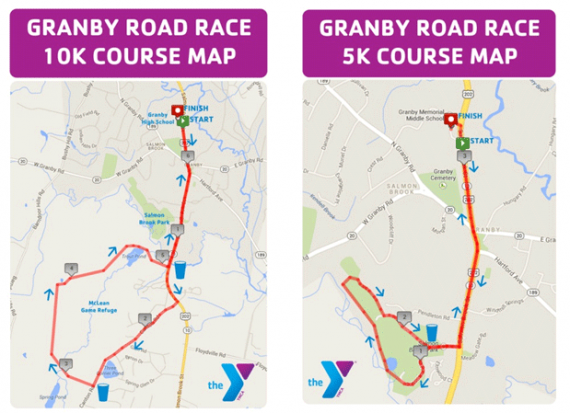 Course records
| | | | |
| --- | --- | --- | --- |
|   | Former 6.4 mile | New 10K | 5K (new in 2013) |
| Men | John Vitale (31:53) | Peter Pazik (32:09) in 1992 | Luke Roman (18:01) in 2019 |
| Women | Kathy Schrader (39:16) | Jessica Rice (38:02) in 2009 | Jessica Rice (18:37) in 2016 |