Our next session starts February 18, 2019, so start getting ready!
Have you been trying to lose weight unsuccessfully for some time? Are you happy with your weight, but looking to get in better shape and change your body composition? Do you want to join a team competition to help find your niche community at the YMCA of Greater Hartford?
If you answered YES to any of those questions, then the Great Hartford Slimdown is right for you! Our 10-week weight loss competition is a fantastic way to get involved at the Y, meet new people, and, of course, lose a TON of weight (we're not exaggerating -- during the fall 2018 competition, our 533 participants lost nearly 2,500 pounds, more than an actual TON!)! With weekly weigh-ins, structured workouts and challenges, and nutritional guidance, you WILL be successful! 
Important registration information and forms:
Rules and Regulations
Registration Form (Online registration links below, but you must fill this out and return to the Welcome Center or Wellness Department)
FAQs
Click the links below to register at your branch!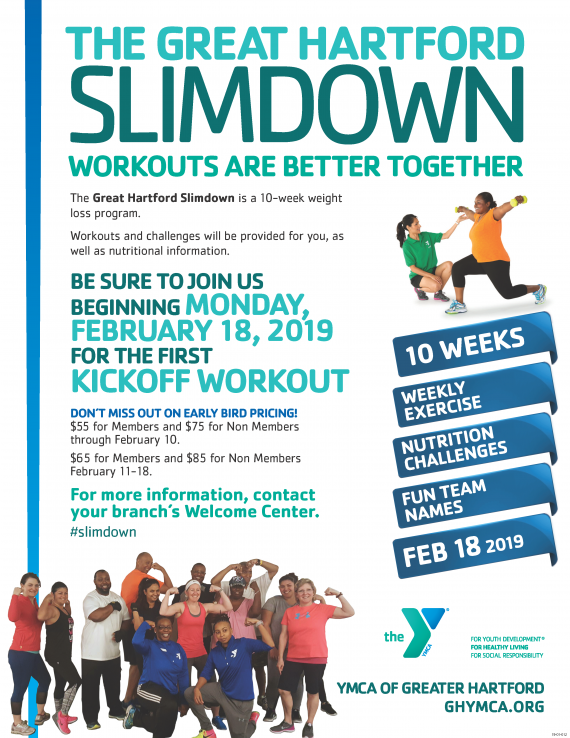 Registration options:
GREAT HARTFORD SLIMDOWN:
Members: $55   |   Program Members: $75

Offered at:

Downtown
Farmington Valley
Hale
Indian Valley
Wheeler
Wilson-Gray

GREAT HARTFORD SLIMDOWN+:
Members: $297 | Program Members: $497
We are EXPANDING! Based on feedback, we are offering a SLIMDOWN+ program for those interested in working out in a small group atmosphere. SLIMDOWN+ includes: registration for the competition and access to ALL Slimdown small group training classes at your branch (there will be several cardio and strength classes each week).

Offered at:

Wheeler (5:45am)
Wheeler (9:30am)
Wheeler (7pm)
 
GREAT HARTFORD SLIMDOWN, ADD 10-WEEK MEMBERSHIP SO THAT YOU CAN WORK OUT AT THE Y:
Program Members: $239

Offered at (Register at the Welcome Center or Wellness Department):

Downtown
Farmington Valley
Hale
Indian Valley
Wheeler
Wilson-Gray