LEHY News & Announcements
2019
October 21: Meet announcements and sign up deadlines for entries have been posted for meets in January through March. Please note that sign up deadlines are well before the meet. We need to insure we are accepted. The OAK meet on January 3-5, 2020 will now be open to all swimmers, not just 9-12 year old swimmers. Please be aware that most of the sign up deadlines are prior to the end of high school girls season.
October 18: Sign up list for the Aquafest has been posted on the Meet Schedule page. Entry for the UConn meet in December has also been posted.
October 16: Meet Schedule page has been updated. Timing assignments for the SYS dual meet have been posted.
October 11: The meet schedule page has been updated with many entries.
October 4: Registration for the 2019-2020 Short Course season is now closed.
September 24: Practice at East Hartford Middle School will end at 6:30pm on Friday, September 27 due to the pizza party. Plan accordingly.
September 19: The 2019-2020 SC Meet Schedule has been updated. In addition, meet entry sign-up deadlines have been added to all meets up through December. High school girls are expected to sign up even though they are in their high school season.
September 17: Meet schedule page has been updated.
September 12: Dates have been corrected on the LEHY Meet Schedule. Please check the Meet Schedule page for an updated list of meets (with correct dates) that LEHY will be attending. Meet announcements will be hung up at the pool today and meet entries with sign up deadlines to sign up for meets will be posted soon. Information about signing up for meets will be emailed out to families.
September 11: September 25, suit up at EHMS from 4:30-6:00 pm. Metro Swim Shop will be on site for help with sizing. Please have an order form with you and completed if possible. CLICK HERE for the Metro Swim Shop order form.
CLICK HERE for the LEHY Apparel order form. Apparel order forms are due to Coach Ed or Kaeley by Friday, September 28th. Clothing samples.
Please RSVP (by September 23) for the LEHY Pizza Party and Parent Information Meeting. New families are STRONGLY encouraged to attend. A lot of important LEHY information will be discussed. CLICK HERE for the direct link to the RSVP.
September 3: Lots of announcements!
LEHY try-outs are Wednesday, September 5 and Thursday, September 6. Swimmers only need to attend one of the days.
DIRECTIONS TO EHMS: If you GPS East Hartford Middle School it will take you to the front of the building (on Burnside Ave). The entrance to the pool is around the corner on Scotland Road. If you are at the front of the building go to the exit, take a left and then a left at the stoplight. This is Scotland Road. The entrance to the pool will be your next left. You will see the middle school sports fields. Any questions please call Kaeley at 860-614-2008.
Tentative 2019-2020 SC Meet Schedule has been posted.
LEHY Suit Up date- Wednesday, September 25 from 4:30-6pm at EHMS.
VOLUNTEERS: We are a volunteer organization and we need your help to continue to keep our program great!!! What do we need?

OFFICIALS: We always need parents to step up and become USA Swimming Officials. It is a great way to learn about the sport and be right on the pool deck. Any LEHY official would be happy to talk to you about the process and I will snd out information about clinics as it becomes available. Time and again, our officials have stepped up to help at meets and keep our timing assignments to a minimum.
PARENTS WILLING TO LEARN TIMING SYSTEM (COLORADO): Best seat in the house at a swim meet! This is the equipment that runs the timing system at our meets. We need people to train and learn the system. We have experienced people who are ready to teach you. It is not difficult and a MUCH needed position when hosting our meets.
PARENTS WILLING TO LEARN THE COMPUTER SYSTEM: Collects all the data from the meet and is a pretty easy system to use once you know it. People can learn it in one weekend! WE have experienced people who are ready to teach you!

Championship Meet Requirements for 2020 CT Championships:

Regionals Championships- Compete in a minimum of 1 CT Sanctioned Meet
Age Group Championships- Compete in a minimum of 1 CT Sanctioned meet
CT Senior Championships- no meet requirement

Meet requirement for CT Scholar Athlete for 2019-2020 will most like be as followed: Applicant must have participated in an individual event in the summer 2019 Long Course Connecticut Senior Championship meet or the 2020 February Connecticut Senior Championship. Applicants also may qualify if they participated in two (2) regularly scheduled CSI sanctioned meets during the 2019 long course season and three (3) regularly scheduled CSI sanctioned meets during the 2019-2020 short course season. Information for 2019-2020 is not out yet for scholar athlete, but here is the link from this years so you can see what it will be like.
August 5: Registration Information for the 2019-2020 LEHY Short Course season has been posted on the Registration Information page.
April 15: CONGRATULATIONS to Coach Ed!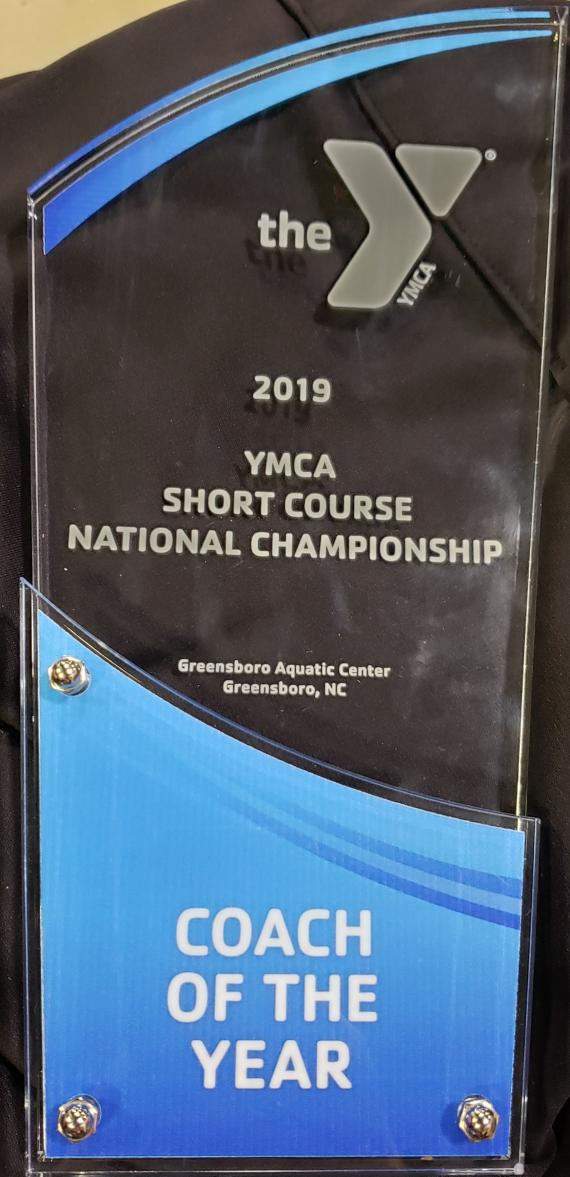 Coach Ed was named the 2019 YMCA Coach of the Year for the Short Course National Championship, a national honor!
Coach Ed has been with the East Hartford YMCA for 33 years, growing the team from 17 swimmers to more than 120 each year. Coach Ed is there for the team members in and out of the pool, helping them with his "Nickles for Nationals" fundraiser to help kids raise money to get to YMCA Nationals; fix their bicycles; leading them in neighborhood clean-up projects, and so much more.
In the nomination submitted, a former swimmer, who is now a team parent and coach, spoke about the sense of family that Coach Ed creates by making each individual feel valued as an important part of the whole.
Thank you to Coach Ed for his tireless service to our YMCA community!
Note:
lookforit.com - Great resource for our swimmers looking to continue swimming in college. This website will show you all you need to know about almost every college program out there and where you would fit into those programs.