Yoga and Pilates Classes
Scroll to the bottom to see the schedule.
Yoga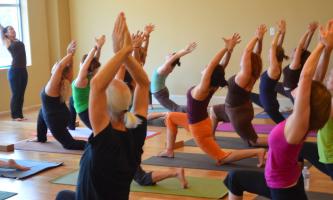 A multi-level class for both new and experienced students. Yoga will help cultivate self-awareness and stress reduction while exploring strength, flexibility and balance. Using breath work, alignment, postures, sequences and relaxation techniques, students will leave having learned tools to use for their lifelong well-being.
Gentle Yoga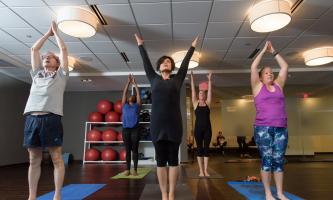 Perfect for all levels, this practice focuses the healing art Yoga on the student, while remaining deeply rooted of the vast treasury of the spirituality & wisdom within the yoga tradition.
Chair Yoga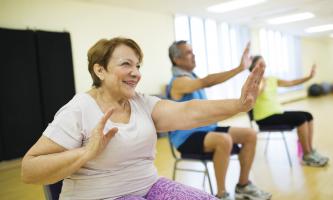 Move through a series of postures that energize the mind and body, sculpt muscles, build core power, and increase strength and flexibility.
Vinyasa Yoga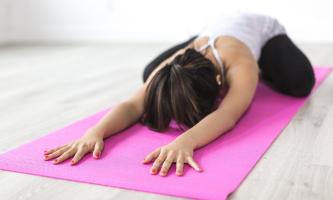 A dynamic and fluid Yoga style in which a specific sequence of breath-synchronized movements are used to transition between sustained postures. The linking vinyasas bring the body back to neutral so that one can fully feel the energetic effects of the practice. By emphasizing the breath throughout the Yoga practice the intention is one of a relaxed and rejuvenated mind and body.
Pilates
Based on the fundamentals of Joseph Pilates' principles, this class will focus on your body core. This method of total body conditioning trains both body and mind with a series of exercises that focus on increasing a balance of strength and flexibility through a use of flowing movements and breathing.
Yoga and Pilates Classes Scroll to the bottom to see the schedule.
Balance & Stretching Classes
Scroll to the bottom to see the schedule.
Senior Strength & Balance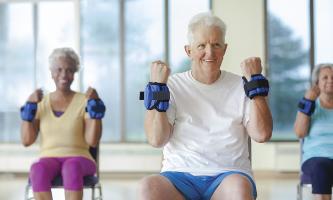 A perfect fit for the beginner or anyone looking to improve flexibility and strength, two factors that have been proven to help reduce falls and improve balance.
Tai Chi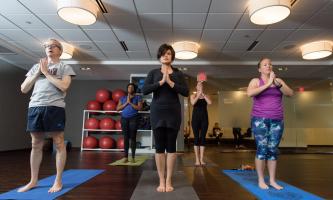 Tai chi is an ancient Chinese tradition that today is practiced as a graceful form of exercise. It involves a series of movements performed in a slow, focused manner and accompanied by deep breathing. Tai chi is a noncompetitive, self-paced system of gentle physical exercise and stretching. Tai chi is low impact and puts minimal stress on muscles and joints, making it generally safe for all ages and fitness levels. Often described as meditation in motion, tai chi promotes serenity through gentle, flowing movements.
Balance & Stretching Classes Scroll to the bottom to see the schedule.